Symptoms of Stress

Symptoms of stress, signs of stress, coping with stress, symptoms of chronic stress, how to keep a stress diary and more about different kinds of stress.
Recognizing the symptoms of stress, and identifying the position of your stress balance are essential if you are to reduce distress, avoid negative stress, and work out a plan for coping with stress.

Most signs and symptoms of stress can be explained by looking at the physiological actions of the stress response in the body. In other words, pay attention to what you are feeling in your body and it will let you know if you are under stress.



For example, a sign of stress is cold hands and feet.

Why?

The skin temperature of the hands and feet is regulated by the amount of blood flowing to these areas. And when the blood flow is reduced, hands and feet feel cold. The outside temperature can make your hands and feet feel cold, but this is definitely one of the signs of stress. When you are reacting to a stressful situation and your stress response is triggered, your blood is redistributed, taking the blood away from non-essential areas and directing it to muscles and other essential areas. The skin is a non-essential area so the sympathetic nervous system sends messages to the blood vessels instructing them to narrow or constrict. This leads to reduced blood flow and reduced heat, which results in you having cold hands and cold feet.
Using this example, it is easy to understand how and why the symptoms of stress arise.

By listening to the clues in your body, you can become are aware that your stress response has been triggered. You can then take the necessary steps to:
- identify the stressor
- take action to control your response
- put a stress relief program in place - have a look at our suggestions on Ways To Manage Stress and choose what feels good for you. It does not need to be long and complicated, but you do need to take care of yourself and spend time practising stress relief techniques.




---

If you prefer to have a ready-made, simple to follow, healing stress relief program, have a look at the selection below. They come highly recommended and you can choose what most suits your needs...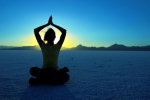 Self-Healing Expressions ~ Bringing the Self to Healing, one lesson at a time
Self-Healing Expressions provides free and affordably priced self-paced email courses on holistic and personal growth topics. Course topics include Shamanism, Discover the Goddess, Aramaic Lord's Prayer, Dreams for Healing, Grief Healing, Pet Loss, Finding Your Spiritual Soul Mate, Empowerment, Healing Foods, Laugh Therapy, Journaling, Coping with Dis-ease, Angels & Spirit Guides, Miracles, and more. Site also features metaphysical articles, grief-healing articles, and guided meditations.
View catalog now!
---

More Useful Information
Go from Symptoms of Stress to More About Stress
Go to DIY Stress Relief Home